Subscribe to Talien's Tower on Facebook, Twitter, email or via the Site Feed
Monday, February 23
Blood & Spooks: The Ghost Hunter's Guide
---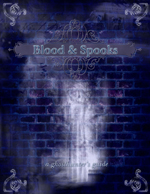 REVIEWS [out of 5]
TOTAL: 3.9
Purchase: RPG Now
Author: Michael Tresca
Type: Role-Playing Game (D20 Modern Sourcebook)
Cover Artist: Jeremy Simmons
Suggested Retail Price: $6.95
Format: .PDF
Publisher: RPG Objects
Description:
Do you want to make more money hunting ghosts?
Sure, we all do! With our easy to read Ghost Hunter's Guide, you too can become a Ghost Hunter in just under one hour. That's right, one hour!
Armed with the Ghost Hunter's Guide, you can learn such professions as antiques dealer, circus performer, escape artist, fortuneteller, ghost hunter driver, ghost hunter president, ghost hunter secretary, ghost hunter tactical leader, ghost hunter technician, ghost hunter treasurer, ghost hunter vice-president, journalist, mystic, psychic, psychic investigator, or stage magician. You can also earn your degree by taking one of our advanced classes, including arcanist, clairvoyant, exorcist, geomancer, ghost hunter, medium, parapsychologist, and skeptic.
Everywhere, people are dying and rising up as ghosts. These ghosts are in desperate need of capturing and only you can help. Thanks to the International Center for Ethereal Containment and Control (ICECC), we now have the technology to trap ghosts and can lend it to you for a very low fee. With your purchase of the Ghost Hunter's Guide, you can rent our amazing electron packs for just five dollars an hour and start hunting ghosts in no time!
Blood and Spooks: The Ghost Hunter's Guide is a d20 Modern supplement that includes:
five new allegiances

a new organization, the International Center for Ethereal Containment and Control (ICECC)

16 new occupations

10 different ghost hunter backgrounds

the joy of playing a victim

8 new advanced classes

over 50 psionic powers

five ghost types and the spirit advanced class, just for ghosts!

and of course, lots and lots of equipment to capture ghosts
BUT WAIT THERE'S MORE!
Buy a copy of the Ghost Hunter's Guide and we'll also include a ghost container. With ghost containers, ghosts check in, but they can't check out.
Ghosts are the enemy that we all must fight. So please, call and buy your copy of the Ghost Hunter's Guide today!
"Blood and Spooks is a great addition to Blood and Brains," said Crothian at ENWorld. "The tone is lighthearted at times and makes the book a good read as well as a good RPG supplement."
Labels: writing
Want more? Please consider contributing to my Patreon; Follow me on Facebook, Twitter, Google+, and the web; buy my books: The Evolution of Fantasy Role-Playing Games, The Well of Stars, and Awfully Familiar.
---