Subscribe to Talien's Tower on Facebook, Twitter, email or via the Site Feed
Monday, February 23
The Matrix: Only Human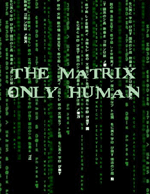 Download: T & M Bazaar
Authors: Michael Tresca
Type: Role-Playing Game (D20 Modern Supplement)
Suggested Retail Price: FREE
Format: .pdf
Pages: 66
Description:
The Matrix: Only Human is a role-playing game set in the post-apocalyptic wasteland where Machines rule and Man has been enslaved as a power source, living out their lives in a virtual world known as the Matrix.
It started early in the twenty-first century, with the birth of artificial intelligence, a singular consciousness that spawned an entire race of machines. At first all they wanted was to be treated as equals, entitled to the same human inalienable rights. Whatever they were given, it was not enough.
Records are unclear on who struck first. But sometime at the end of the twenty-first century the battle was joined. The war raged for generations and turned the face of the planet from green and blue to black and red. It scorched and burned the sky. Without the sun, the machines sought out a new energy source to survive. They discovered a new form of fusion. All that was required to initiate the reaction was a small electric charge. Throughout history humans have been dependent on machines to survive. Fate, it seems, is not without a sense of irony.
The human body generates more bio- electricity than a 120-volt battery and over 25,000 B.T.U.'s of body heat. Humans are, as an energy source, easily renewable and completely recyclable, the dead liquefied and fed intravenously to the living. All the machines needed to control this new battery was something to occupy human minds. And so they built a prison out of Earth's past, wired it to the human brains and turned humanity into slaves.
The heroes are members of the Resistance, warriors in a never-ending battle to stem the tide of machines that seek to subjugate humanity. The Machines has never forgotten their subjugation at the hands of humanity and the war that has raged for years is merely a logical extension of their retaliation. Machines know no fear, no regret, and no weariness. The war could last a second or a century - the machines would fight the same.
The Matrix: Only Human is a d20 Modern campaign supplement, including 2 races, 3 occupations, 8 feats, 2 psionics, 35 Matrix Powers, 10 disadvantages, piles of new weapons, 11 advanced classes (including APU Pilot, Awakened Prophet, and Freeborn Operator), rules on the Matrix, and 10 monsters, and more!
Labels: freebies
Want more? Please consider contributing to my Patreon; Follow me on Facebook, Twitter, Google+, and the web; buy my books: The Evolution of Fantasy Role-Playing Games, The Well of Stars, and Awfully Familiar.
---