Subscribe to Talien's Tower on Facebook, Twitter, email or via the Site Feed
Wednesday, December 30
The Death of a Famous Tresca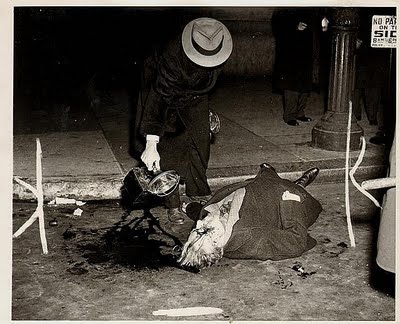 For reasons I don't fully understand, a photograph of my relative Carlo Tresca is on auction. If I had the money, I would bid on it, if only to keep it out of other peoples' hands.
This is one of those moments where art and personal interest intersect, and it's one of the reasons why I find the glorification of Mob culture to be reprehensible.
This. This is Carlo Tresca, anarchist, shot in the face by a mobster. It's possible the reason had nothing to do with Mob business -- it's possible it had everything to do with Mob business. It doesn't matter. A picture of a family member's murder is up for auction:
"Police in New York ... considered him one of the most dangerous anarchists in the United States." Interesting figure with illuminated hat, face hidden, shines a light. The cropping marks are in the negative. Black and white photograph with copy of 1943 slug, "UPI" in pen verso. Corners are weak, in margin.
They make him out to be a mass murderer or something. If you want to learn more about Carlo Tresca, see
Wikipedia
. If you want to bid on it, see
Lot 51
.
Labels: author news
Want more? Please consider contributing to my Patreon; Follow me on Facebook, Twitter, Google+, and the web; buy my books: The Evolution of Fantasy Role-Playing Games, The Well of Stars, and Awfully Familiar.
---